35
Hunting Lease in Louisiana : How To Find Hunting Land For Lease in Louisiana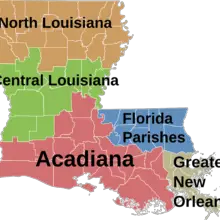 ---
In this article we tried to explain how to find hunting leases in Louisiana, how you can find Deer hunting leases in Louisiana also you will discover how to find the regional leasing land in LA. So without further Ado keep reading and explore how to find hunting land for lease in Louisiana!

Thanks to its many wetlands and forests which support biotic life, Louisiana is home to several flora and fauna. It is especially known for its fauna which consists of a wide range of animals and birds.
Some of the animal species which are found in Louisiana include coyotes, deer, cougars, foxes, wolves, bears, ottes, raccoons, wild pigs, panthers, hogs, and beavers among others.
The bird species in Louisiana include hawks, herons, egrets, eagles, owls, pelicans, waterfalls, quails and turkeys among others.
Apart from mammals and birds, Louisiana also harbors various amphibians, reptiles, and crustaceans in its swamps and marshes.
Disclaimer: If you click a link on this page and make a purchase, we may receive a small commission at no extra cost to you.
Note: If you are looking for the hunting lease agreement or insurance check out here
Because of Louisiana's rich diversity of wildlife, it has for a long time attracted people with an interest in hunting.
Carrying out hunting activities is legal in the state of Louisiana as long as you comply with the state's hunting regulations.
The regulations include possession of a valid hunting certificate, avoidance of restricted areas, and non usage of outlawed weapons among others.
How To Find Hunting Land In Louisiana
There are various ways of finding hunting lands in Louisiana.
The first way is by approaching lumbering companies for hunting leases.
Lumbering companies own most of the forested lands in Louisiana which are inhabited by various kinds of game.
They usually lease their land to hunters alongside engaging in timber business.
The lease agreements they offer can run for long periods of time, even more than 5 years. Examples of these companies include Rayonier, RoyOMartin, and Neill Forestry Consultants among others.
Secondly, there are also resorts which offer hunting land leasing services in Louisiana. These resorts include Dream Hunt Resort, Louisiana Hunting Lodge, and Saltgrass Outdoors in Venice, Louisiana among other facilities.
They own large ranches where they let guests and patrons hunt at a fee. The resorts allow both adults and children as they employ experts to guide beginners.
In addition to lumbering companies and resorts, you can access hunting lands by joining hunting clubs in louisiana which will facilitate your hunting activities as their member.
There are clubs like Cypress Point Hunting Club and Bourbe Lake Hunting Club which you can register with and become their member.
You will get to meet people with shared interests at these hunting clubs in louisiana and you can then go about hunting together.
Bourbe Lake Hunting Club admits new members every now and then. It provides on-site camping services to its members and lets them hunt animals like ducks, pigs, deers, and squirrels.
The club also lets members fish in its fresh water lake. It offers two types of membership, a fishing only membership and a full membership which includes both fishing and hunting. Full membership holders are allocated a private locker at the camp.
Club members are required to pay a registration fee at the time of joining the club and then afterwards only pay the annual membership fee.
In addition to everything, you can look up information about hunting lease services in Louisiana in classifieds as well as online. There are regular adverts about Louisiana hunting leases on Louisiana Sportsman and RecLAND REALTY classifieds among others.
Deer Hunting Leases In Louisiana
Deers are some of the most sought after game by hunters throughout North America. Louisiana is very rich in deer population and is thus a favorable deer hunting destination.
Dream Hunt Resort is the first place to turn to if you are on the lookout for a deer or more. The resort is famous for its large-horned white tail deers which roam freely in the vast stretches of enclosed land which belongs to the resort.
The resort will give you guides to escort you to deer hot spots. You will easily find deers at the resort as their population there is quite large. The resort plants food plots to feed them on and this helps them thrive.
In addition to Dream Hunt Resort, you can hunt deers at 2 Brothers White Tails which is a deer breeding ranch in Louisiana.
Timber Company Hunting Leases in Louisiana : You can also hunt deers in timber company lands and in public lands like the Maurepas Swamp and Pearl River WMA. Kistachi National Park in western Louisiana also has a rich population of deer. You can hunt for deer in sections of the park where hunting is allowed.
Duck Hunting Land For Lease In Louisiana
Delta Ridge in Northeastern Louisiana lets duck hunters hunt ducks in its rice, milo, and corn fields. It is a private waterfowl rearing business which has been in operation for more than 33 years. It provides duck hunters with even more thrill through its blinds which are located in cypress fields.
In addition to this property, you can also access duck hunting land at Grosse Savanne Lodge in Louisiana.
This lodge has a variety of duck species including pintail, teal, mallards, and gadwall. Other areas in which to hunt ducks in Louisiana include Honey Break Lodge, Russell Sage Wildlife Management Area, and Dream Hunt Resort among others.
Very rarely, you may find a resort, or preserve that offers longer lease agreements. RoyOMartin, as well as other timber companies in Louisiana, offer land leases that may, or may not put you on some ducks to bag.
Keep in mind that land lease contracts with companies like RoyOMartin can be long, with some lasting as long as 8 years.
Interestingly, Some oil companies in Louisiana offer up their land for lease during duck season as well as during other game seasons. 
Hunting Leases in North Louisiana

There are a number of companies which offer hunting land leases in the Northern area of Louisiana. An example of these is Cutter Creek Outfitters which offers deer hunting, alligator hunting, duck hunting, and goose hunting leases.
There are also other hunting lease service providers in North Louisiana like the hunting club, Wild Hog Ridge and its counterpart Deux Chenes Hunting Club.
The Wild Hog Ridge Hunting Club leases out acres of their land and specializes in hog hunting. Their hogs are Russian and Razorbacks, weighing between 100lbs and 400lbs. Hunts are customized as per hunter's preference. Gun, knife, dog and spear hunts are allowed, as well as stalking.
Cutter Creek Outfitters offers land leases and Louisiana alligator hunting. All of Cutter Creek's alligator hunting is guided for safety, and they also offer deer, duck and goose hunting.
Hunting Leases in South Louisiana
South Louisiana also has a number of hunting lease providers. These clubs and companies offer hunting services ranging from alligator hunting, bird hunting, deer hunting, and even the not so common buffalo hunting.
 Buffalo hunting is not easy given the savage nature of these animals and therefore most hunting companies, clubs, and resorts are reluctant to provide buffalo hunting services.
Hunting lease providers in South Louisiana include Cajun Fishing and Hunting Charters, Pecan Island West Hunt Club, Arcadian Expeditions, and Bayou Teche among others. The latter mainly specialises in bird hunting lease services. Its bird species include chukar and woodcock among others.
Bayou Teche Hunting Preserve offers guided, as well as unguided hunting. They also lease their land to hunters seasonally. Their main game is birds, such as quail, chukar, pheasant, and woodcock. However, they also offer hog hunting.
Arcadian Expeditions offers alligator hunting expeditions, occasional land leasing as well as onsite amenities like housing and meals.
Hunting Leases in Central Louisiana
Hunting leases in Central Louisiana are mostly provided by the Dream Hunt Resort. There is in addition the Big Woods Fish and Game Reserve which provides deer and duck hunting leases in addition to fishing leases. On top of these, a large part of the Katachi National Park is also situated in Central Louisiana.
Rabbit hunting leases at Dream Hunt are contracted in February and hunting dogs are provided for you. The Big Woods Fish and Game Reserve, located in south central Louisiana, offers deer and duck hunting, as well as fishing. They lease yearly as well as on a seasonal basis.
Finally,
With its numerous hunting lease providers and diverse wildlife population, Louisiana will offer you a great hunting experience. Book an opportunity today with any of the hunting lease providers and enjoy thrilling hours of chasing after game in the forests and wetlands of Louisiana.
Reference



Lumbering companies Offer Hunting Lease in Louisiana

Real Estate Agents Offering Hunting Lease In Lousiana
Resorts offer Hunting Lease Land In Louisiana

Hunting Club in Louisiana
Duck Hunting Land For Lease In LA
Hunting Leases in North LA
Hunting Leases in South LA
---