Nikon Monarch 7 ATB 8×42 Binoculars Review-Updated!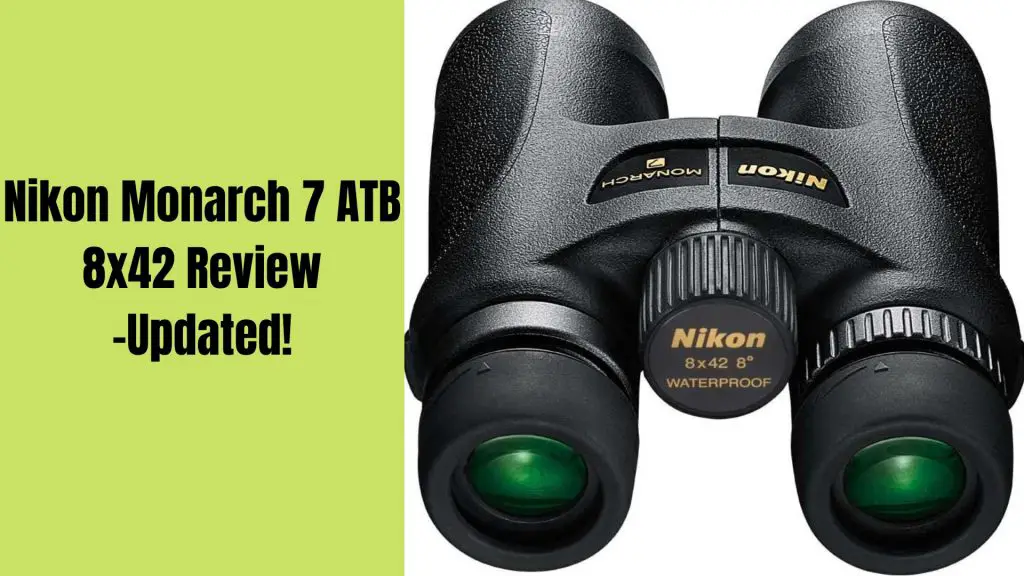 If you are looking for upper mid-level binoculars, it's highly unlikely that you have not seen the Nikon Monarch 7 8×42 ATB binoculars as an option for the best contender.
If your curiosity has grown to an extent that you can't keep your hold to look at these binoculars through expert lenses, you are at the right place.
This article will take a more in-depth look at these Nikon binoculars and So we will answer what makes these binoculars so famous among bird watchers and hunters.
We tested the Nikon Monarch 7 8×42 for several days in the field and terrain and here we will show our results for the rigorous testing. We will also tell you whether they fit your particular needs or not.
We will also show you some alternatives to these Monarch 7 and whether you should go for them.
Let's move quickly on to the different criteria on which we tested these binoculars.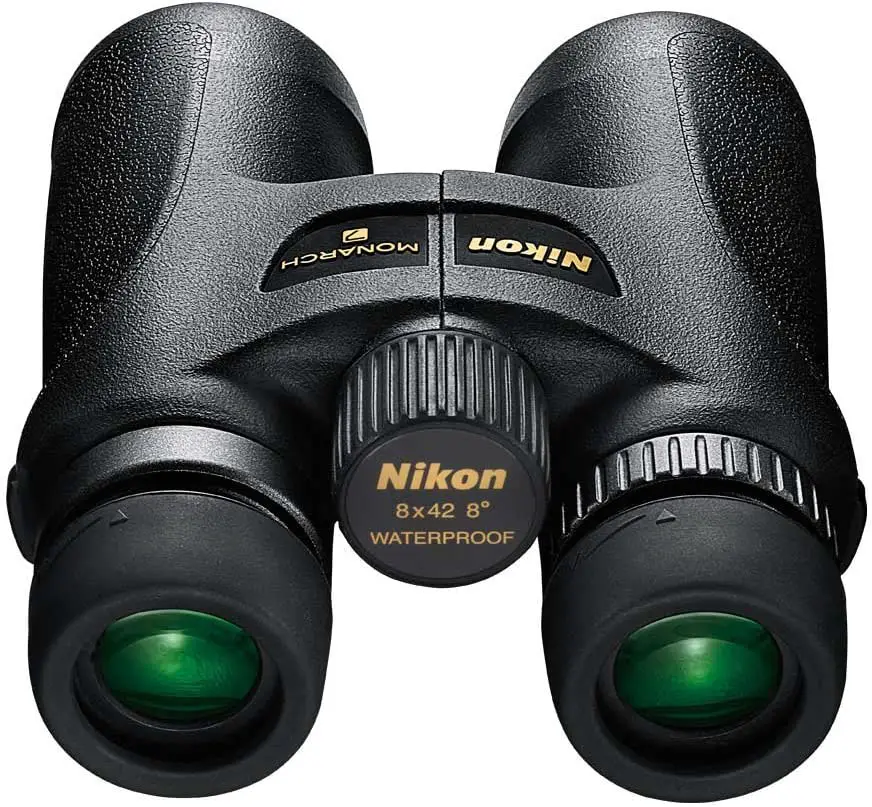 Design, Construction & Build Quality
On the hand, the monarch 7 8×42 ATB model feels solid and well-built from the outset. Ergonomically, The pairs felt great in my hands even with gloves on and I have medium hands.
Nikon Monarch 7 all-terrain performance is highly regarded, primarily because of its rugged rubber-armoured chassis. This body is further reinforced with fibreglass. This means you can take your binoculars in even extreme weather conditions confidently.
This binocular is built with Nikon's proprietary Extra-Low Dispersion (ED) glass and fully multicoated prisms with all the best coatings that one would expect at this price range.
ED glass allows the light to pass through the prism and minimizes the colour fringing effects and image distortion (Color fringing is a problem that shows blur colours of the object as compared to its original colours)
The objective lens cap of the model tested by us was a snug fit however, some people have complained that they get loose sometimes.
Eyepiece lens covers are attached to the binoculars body, While in the field, even carrying with an arm, If you shake the binoculars well while holding the objective lens in the top position, I saw that the eyepiece lens covers get detached, I felt they are not that well made.
Nikon 7548 MONARCH 7 8x42 Binocular (Black)
The MONARCH 7 8x42 provides an exceptionally wide field of view that makes it easy to find your subject.
Dielectric High-Reflective Multilayer Prism Coatings are applied to all lenses and prism coatings to provide...
Thanks to a durable rubber armored coating, the MONARCH 7 is comfortable to hold and rugged enough to stand up to any...
New Model Product Update Note — December 2021
Nikon Monarch M7 8×42 Review- Difference with The Old Monarch M7 Model
On Sept. 22, 2021, Nikon Inc. unveiled the next generation of the popular MONARCH 7 ATB family of binoculars tested and reviewed in this writeup.
The Newer Model is named Nikon Monarch M7 8×42 Binoculars
These models are successors to the popular MONARCH 7 series binoculars known for their optical excellence, robust build quality and decent performance that's ready for an adventure in even rough terrains also.
The ATB stood for All Terrain Binoculars, which meant they were fog resistant, water resistant, and had a shockproof rubberised coating, but now Nikon offers this across all their Monarch binocular models, so they've dropped the ATB from the title. 
Monarch M7 binoculars use the same Nikon's ED glass for reduced distortion and chromatic aberration.
Let me Immediately Take you down to the difference between the earlier Monarch 7 8×42 ATB Binoculars Vs The New Monarch M7 8×42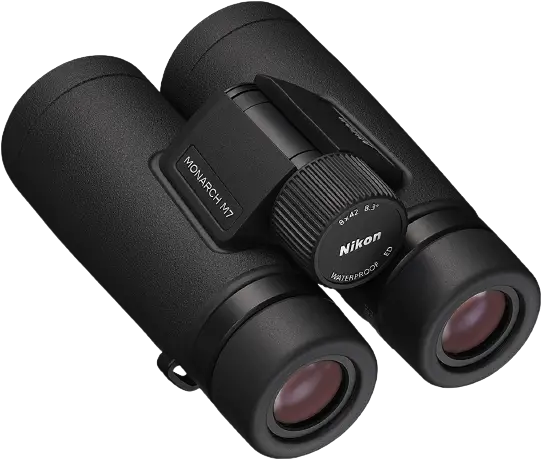 Nikon Monarch M7 8×42 Vs Monarch 7 8×42 Binoculars
8.3degrees angular fov in the monarch m7 8×42 model compared to 8 degrees in the older monarch Model
M7 has a locking diopter adjustment knob which prevents unintentional rotation, a feature usually only seen in models costing much more.
Nikon's black 10×42 Monarch M7 Binoculars have improved design features compared to the previous Monarch 7.
The M series has a more comfortable streamlined body and improved rubber armouring to protect against wear and tear in rough terrains.
Compared to the older Monarch 5 and 7 models, the M5 and M7 both have better resolution
An extra Oil and water-repellent coating applied to the objective lens and eyepieces allows moisture and smudges like fingerprints to be easily wiped off. This extra coating was not present in the older Monarch 7 binoculars.
Strong Polycarbonate reinforced body with chrome colour letters badging in the new M7 Monarch 8×42 models instead of the golden colour badging in the previous monarch 7
Conveniently Tripod Mountable for long observation and photography
Here is a link to the newer model If you want to check it out.
Sale
NIKON Monarch M7 8x42
Sophisticated rubber armored exterior design provides shock resistance and a firm comfortable grip
Locking diopter control maintains your personal setting
Oil/Water repellent coating - applied to both eyepiece and objective lens surfaces
Size & Weight
Owing to their construction these are very light-weight binoculars for their size, at 22.9 ounces. You can hold these binoculars even with one arm for a long time.
I held the binoculars in one arm for 14 minutes and my hands were not tired.
Also, while carrying them in the strap or harness, They will put less strain on your neck and arms using them all day in the field.
Image Clarity And Optical Performance
The lenses are made of (ED) glass. All lens surfaces are fully multi-coated. The prisms have dielectric coatings and are also phase-coated. 
The images are sharp across most of the field of view – maybe 80-85%. I do note that the image focus may be a bit softer towards the remaining 15%. However, the image is bright across the whole FOV.
I've seen a bit of chromatic aberration at the edge of the field. However, It's much better than lesser expensive optics. Also, The Image is a bit flatter than other binoculars in the segment like the vortex viper 8×42 HD however they produce true colour than the Vipers. When I pointed the Monarch 7 8×42 to the trees in front of me, I saw the blue of the sky and the greens of the leaves separated well from each other. The colours you see are true to the world from these pairs.
In a nutshell, I felt, They are right where I would expect a pair of binoculars to be in this price range and that's pretty standard unless you pay at least 2x-5x the price.
Also, The light gathering is excellent and I found that the image is crisp and bright enough(Not Super bright but Bright Enough), and the colours are vivid and natural. There's no noticeable ghosting or artefacts of any kind. 
The contrast is however missing and the images are flat. I like contrasty images, so I was disappointed a bit here.
The binoculars have a large exit pupil of 5.3 mm. This exit pupil gives it reliable low-light performance. We loved the fact that these binoculars produce bright images even in gloomy or overcast conditions. 
These are the qualities in a binocular you will love as a bird watcher and a hunter. As these binoculars can deliver details in the images, you can also use them for general observation and sightseeing.
Focus Wheel & Eye Cups
The binoculars have a really nice focus wheel that feels like butter while fiddling through it. The focus wheel has just the right tension in it.
I could even operate the focus wheel with just one finger and it's butter smooth. I never felt any kind of weird grindings on the edges. It just cleanly stops in the end.
The precise, single-eye adjustment is built into the right ocular and provides sufficient turning resistance to prevent it from accidentally slipping from its setting. The rubber-covered eyecups twist out and click-lock in three distinct points above the base position.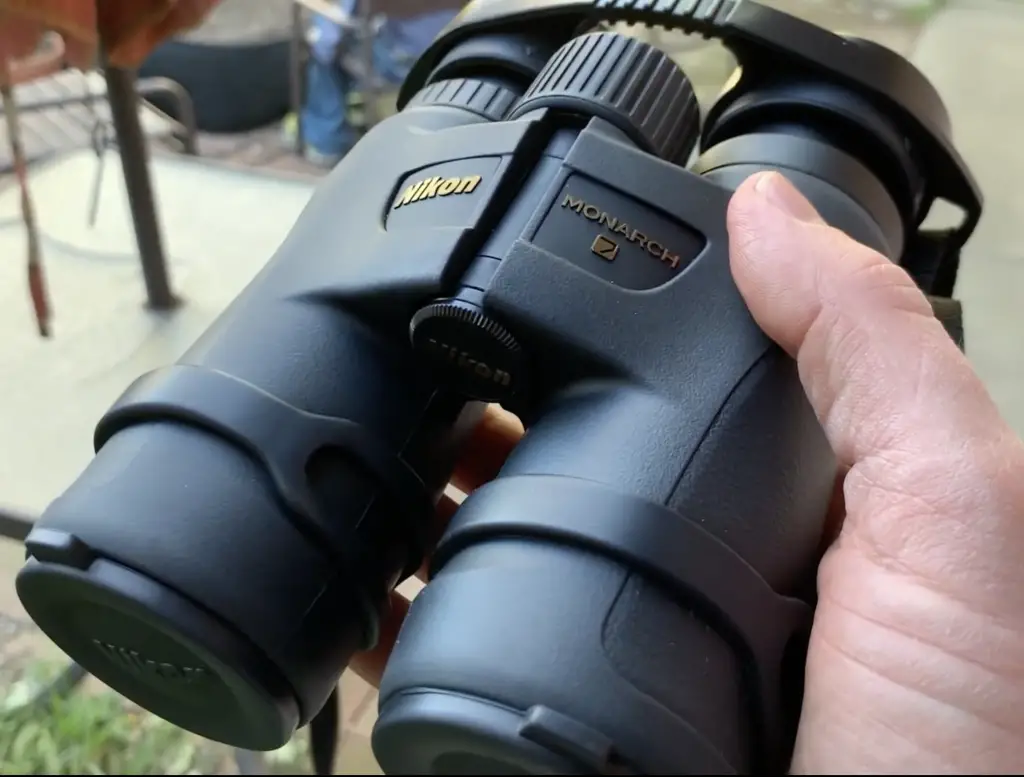 Waterproof/Fogproof
The Nikon Monarch 7 8×42 ATB binoculars do come with all-terrain construction as in the name. You can deploy them in any condition thanks to their waterproof, shockproof, and fog-proof rubber-armour body. 
The model is waterproof down to 1 metre which is not that great but can serve you well in a rainstorm.
Field Of View
The binoculars have an amazing field of view of 420 feet at 1000 yds. It's way above the average typical field of view for binoculars (300-350feet @ 1000 Yds)
So what does that mean for you;
Field of View is so much more important as I use these binoculars for bird watching.
I can watch a bird going from branch to branch. With less field of view, the bird may hop out of view. You'll have to put your binoculars down to re-spot the bird with your eyes.
Another advantage is that It's easier to spot animals without scanning or moving the binoculars, simply because they take in a wider section of the landscape. 
The field of view really takes a hit when increasing magnification from 8x to 10x. That's for all binoculars. That's why I prefer 8×42 over 10×42 If I have to scan a large area quickly.
Close Focus
The close focus of 8.2 feet is good, but not great. 
Again What Does That Mean For You?
Close focus is important when you want to see something close to you in detail and up close.  
This is especially important to birdwatchers and people that look at butterflies, insects, etc.
If you intend to see butterflies and insects a close focus of about 5-5.5 ft is good. In this case, you would be able to see fairly birds in the bushes however If you are a fan of insects watching these binoculars might not be that helpful.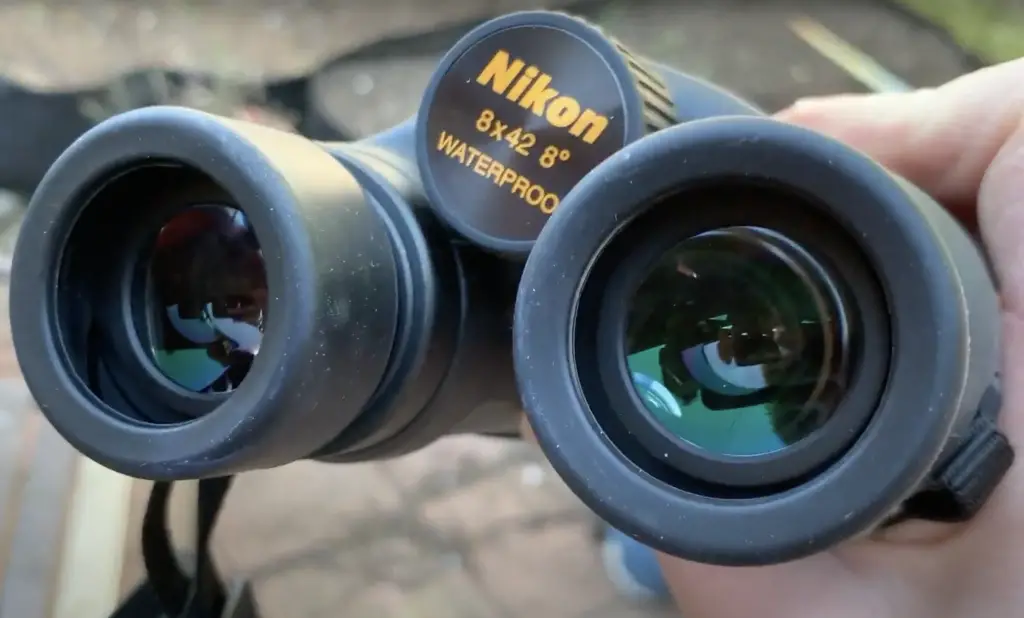 Eye Relief of The Monarch 7 8×42
Are You tired of having to put your glasses in your pocket or the head every time you start your binoculars glassing sessions?
The good news is that Monarch 7 8×42 ATB Binoculars have a great eye relief of 17.1 mm
So, these binoculars can be comfortably used with or without eyeglasses.
My wife was wearing prescription glasses and we were concerned that the eye relief might be inadequate.  Some binoculars we have owned have to eye reliefs of 20mm which are highly comfortable for eyeglass wearers.
To our relief these Monarch 7 8×42 binoculars worked fine with glasses and the clarity and detail are amazing.
 Moreover, She can see the full wide field of view even with glasses on.
Tip: It is important to set the eyepiece's extension to the farthest extent if using bare eyeballs.
Uses
With Great Features Like;
Wide angle field of view of 402ft @ 1000yds.
Sharp, bright image with accurate colour
Ruggedly built, waterproof and fog proof
lightweight and easy to carry.
Can be carried for longer with one hand, Ergonomic rubberised grip
The Nikon Binoculars with their features above are easily one of the best birding binoculars in the market. They can be a good choice for hunting as well.
What is In The Box
The Monarch 7s 8×42 come with standard accessories. Let me list them below:-
Nikon 8×42 Monarch 7 ATB Binoculars (Black)
Soft, Padded Neck Strap
Soft Carrying Case
One-Piece Ocular Rainguard
2 x Tethered Objective Lens Covers
What I Liked:
Nikon's limited lifetime warranty.
Excellent bright and crisp optical image, good light-gathering capability
Very wide field of view of 420 feet for scanning a large area quickly
Nice edge-to-edge clarity compared to other binoculars in the piece range.
Cons:
Narrow neck strap
Some people commented about objective lens covers not fitting correctly, however, mine was a snug fit
Minor Aberration.
User Reviews
The average user rating of Nikon Monarch 7 binoculars is 4.4 stars which is excellent. 
The binoculars are an excellent choice as voted by the purchasers. Let me highlight some other short reviews as quoted by other real buyers
User 1: I debated (after much research) whether to purchase the Monarch7 8×42 or the Vortex Viper 8×42. Unable to try them (thank you COVID-19), I took the plunge and ordered the Monarch7. My son has a pair of Vortex he uses for hunting and they are also go…

User 2: I already had a couple old binoculars. A 7×35 wide view and a pair of 8-24×50 with zoom. I thought I was good, but I had no idea what I was missing. These Monarch 7's are such an improvement. I didn't realize how much brighter they would be. Early morning or late evening, in low light conditions, I can see so much more than I ever realized was out there. Also, I never realized that the adjustable eye cups would make such a difference. No more removing my glasses to use the binoculars. The Monarch 7's were a little pricey, but after using them, I have no regrets.

User 3: The objective lens covers are good, the eye cup lens covers are not; they fall off too easily and appear to be an afterthought.

From OpticsPlanet
Alternatives
I am mentioning some contenders who can take the place of Monarch 7 8×42 binoculars.
The first contender is Vortex Viper HD 8×42. They are compact in size but are a bit heavier than the monarchs. The vipers produce highly contrasty images and things pop up right in your view while seeing through the vipers. However, viper HD 8×42 has a slightly smaller field of view of 409ft @1000yds. 
If you love butterflies and insects watching and seeing birds in bushes Zeiss Terra Ed 8×42 would be a good choice as they have a lower close focus distance. However, chromatic aberration is more apparent in the Zeiss Terra towards the edge. If you can go for the higher range you can go with Zeiss Conquest HD 8×42, they cover these limitations well.
Specification-Nikon Monarch 7 8×42 Binoculars
| | |
| --- | --- |
| Focusing System | Central Focus |
| Magnification | 8X |
| Objective Diameter42mm | 42mm |
| Angular Field of View (Real) | 8° |
| Angular Field of View (Apparent) | 58.4° |
| FOV at 1000 yds | 420 ft. |
| Close Focus Distance | 8.2 ft. |
| Exit Pupil | 5.25mm |
| Relative Brightness | 28.1 |
| Eye Relief | 17.1mm |
| Size (Length x Width) | 5.6 x 5.1 in. |
| Weight | 22.9 oz. |
| Phase Coating | Yes |
| Dielectric Coating | Yes |
| Waterproof/Fogproof | Yes |
| Prism | Roof |
| ED Glass | Yes |
Conclusion: Nikon Monarch 7 8×42 ATB Binoculars Review
The Nikon Monarch 7 8×42 binoculars seem an excellent birding binoculars.
Moreover, The Monarch 7s are high-performing waterproof binoculars designed for serious hunters, bird watchers, and wildlife viewing too
With crisp, bright images with low chromatic aberration, the Monarch 7s are a nice pair, made to Nikon's usual high standards, and well worth a look.
I feel confident recommending them as the best mid-level binoculars for bird watching.
You might be interested in:
Nikon Monarch 7 10×42 Review ATB Binoculars Review
Also Check: Nikon Monarch 5 8×42 Review
A Useful Video review about The Nikon Monarch 7 8×42
Last update on 2022-11-27