Vortex Binocular Deals & Discounts-Updated!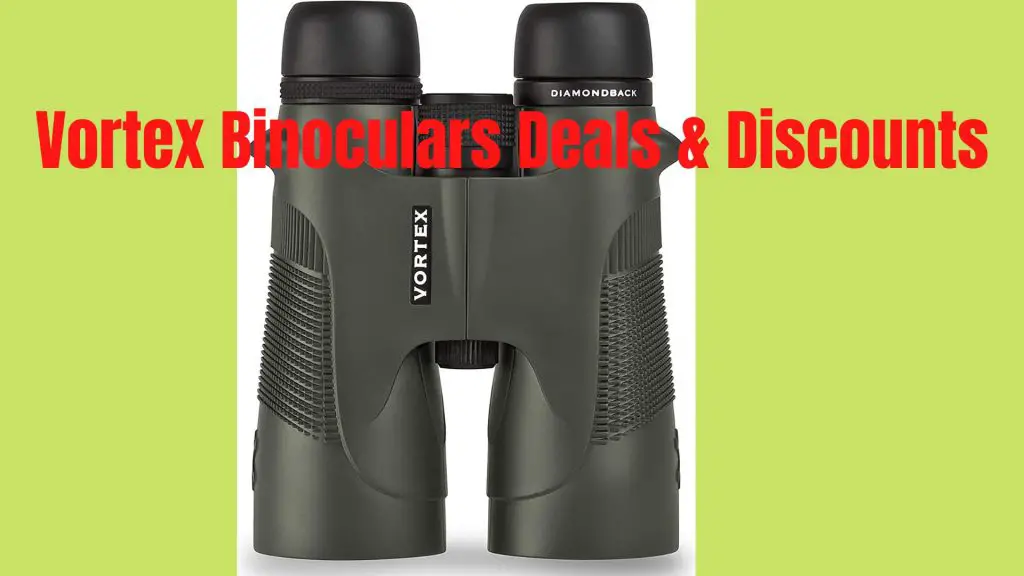 Looking for a great deal on Vortex binoculars? Check out here the latest deals and discounts on a wide range of models, perfect for any outdoor activity. From hunting and birdwatching or simply enjoying the wildlife, we've got you covered. So take a look and see what's on offer – you won't be disappointed!
We understand that binoculars are an important tool for many outdoor enthusiasts, and we want to make sure that our customers have access to the best possible products at the best possible price
If you're in the market for a new set of binoculars, you may have noticed that Vortex binoculars are one of the most popular brands. But why are they so popular, and why do we offer the best deals on Vortex binoculars? Here's a closer look at what makes Vortex binoculars stand out from the competition.
Vortex binoculars are known for their quality craftsmanship and outstanding optics. They're built to withstand heavy use, whether you're hiking in the woods or hunting in rough terrain. And because they're backed by a vortex lifetime warranty, you can be confident that your investment will last for years to come.
In addition to their quality construction, Vortex binoculars offer excellent clarity and light-gathering abilities. This means that you'll be able to see more clearly, even in low-light conditions. we are proud to offer a wide selection of models from different sellers at the best prices.
We update the best deals on Vortex binoculars because we believe that they're the best value for your money. We offer updating of prices very frequently from different sellers, So if you're ready to invest in a quality pair of binoculars at the best price, take a look here!
So why wait? Take advantage of great deals today and find the perfect pair of Vortex binoculars for your needs.
Vortex Binoculars Deals & Discounts Today
Let me update quickly below all the deals available for the Vortex Binoculars today from various reputable sellers. we will start with the most popular diamondback binoculars.
Vortex Diamondback Binocular Deals
The Vortex diamondback binoculars are a great choice for anyone in the market for a new pair of binoculars. 
There are a variety of different models to choose from, each with its own set of features and benefits. 
The vortex diamondback 10×42 binoculars are a great option for those who need a versatile pair of binoculars that can be used for a variety of different activities. The 8×42 model is a great all-around choice for most users, offering a good mix of zoom power and light-gathering ability.
For those who need a more powerful pair of binoculars, the vortex diamondback 12×50 binoculars may be a better option. These binoculars offer superior magnification and light-gathering ability, making them ideal for use in low-light conditions. 
There are other models in different configurations to choose from, each with its own set of features and benefits. The other models are 10×28, 10×32, 10×50, 15×56, 8×28, 8×32
No matter which model you choose, you're sure to be impressed with the quality and performance of the Vortex Diamondback binoculars.
Here I will keep you updated with the best deals on vortex diamondback binoculars.
Vortex Viper Binocular Deals
The Vortex Viper HD 10×42 binoculars provide a great option as an optimum weight, and high-performance optics. With a wide field of view, large exit pupil and advanced lens coatings, the Viper HD binoculars provide bright, crisp images with true colour reproduction. The special XR anti-reflective lens coatings give bright, full views even in low-light situations.
Vortex viper has four models in different configurations I.e 10×42, 8×42, 10×50, and 12×50.
The quick centre focus wheel makes adjusting your focus easy while you're looking through them. The rubber armouring with perfectly placed thumb indents provides superior ergonomics and provides a comfortable grip that's sure to please even after hours of use.
 It's no wonder why these are one of our most popular models!
Here I will keep you updated with the best deals on vortex Viper binoculars.
Vortex Razor Binocular Deals
The Vortex Razor HD binoculars are designed for the professional user. They are made with premium HD extra-low dispersion glass, a magnesium chassis, and a smooth centre focus.
The Razor models deliver unparalleled resolution and colour and create stunning high-definition images in front of your eyes.
The argon-purged and o-ring-sealed construction makes them waterproof and fog proof.
Vortex Razor HD has four models in different configurations I.e 10×42, 8×42, 10×50, and 12×50.
Another Upgrade in Razor Model Is Vortex razor UHD binoculars. 
These binoculars house Abbe Koenig Prism configuration and provide the best of the best image to your eye with these Ultra High Definition optical designs. Owing to high visual clarity, detail, light-gathering ability, and glare elimination the UHD is vastly superior to the HD.
Vortex Razor HD has five models in different configurations I.e 10×42, 8×42, 10×50, 12×50, 18×56
The Vortex razor Hd is made in China and the razor UHD is made in Japan.
Here I will keep you updated with the best deals on Vortex Razor HD & UHD binoculars.
Vortex Crossfire Binocular Deals
Vortex Crossfire HD binoculars are the perfect choice for entry-level to intermediate outdoor enthusiasts. The waterproof and fog proof design makes them ideal for most conditions, and their compact size means you can take them anywhere. 
The multicoated lens and prism make viewing easy in any light, while the rubber armour provides a comfortable grip. These binoculars are also pocket-friendly, making them great for travel as well as everyday use.
Vortex Crossfire HD has four models in different configurations I.e 10×42, 8×42, 10×50, and 12×50.
Here I will keep you updated with the best deals on Vortex Crossfire HD binoculars.
Vortex Kaibab Binocular Deals
Vortex Kaibab Binoculars are equipped with an APO optical system. The Kaibab binoculars feature premium, high-density, extra-low dispersion lenses that provide long-range clarity. 
The Lenses are fully multi-coated with XR plus anti-reflective coating, which delivers exceptional light transmission and colour-accurate views. The Kaibab HD is covered in tough and resistant, non-slip rubber armour and ultra-hard armortek lens coatings to protect your binoculars from the most rugged environments.
The binoculars are fog proof and waterproof to take them in any condition.
Here I will keep you updated with the best deals on Vortex Kaibab binoculars.
Vortex Optics Raptor Binocular Deals
The vortex raptor is entry-level binoculars with a good optical system and pretty decent mechanical characteristics.
The images are clear and the binoculars are very easy to adjust. The binoculars are also very durable.
The field of view and depth of field make it easier to pick up fast-moving objects, such as birds.
For this pocket-friendly price, it has it also provides nice waterproofing with an o-ring and nitrogen purging for fog proofing.
Included with them is a beautiful front protector & a strap and that is very comfortable around your neck
Owing to their low weight, sharp and contrasted image, and balancing and waterproofing feature, They are very suitable for use in nature and casual wildlife adventures.
Moreover, For an inexpensive binocular, it gives a sharp, clear, image, and you can carry it easily in your car as spare binoculars which are extremely handy.
Vortex Raptor has two models in different configurations I.e 8.5×32, and 10×32.
Vortex Optics Rangefinder Binocular Deals
If you are a vortex fan.
You might have been searching for vortex rangefinder binoculars, and you would have definitely come across vortex fury rangefinder binoculars and thought to purchase them at the best deal.
Vortex Fury HD 5000 Laser Rangefinding Binoculars Best Deals
You can also see our vortex fury comparison with Nikon Laserforce rangefinder binoculars below:-
Vortex Fury HD Vs Nikon Laserforce
Vortex Optics Vanquish Binoculars Deals
One of our favourite compact binoculars from vortex optics is Vortex Vanquish binoculars. Vanquish is just a bit smaller and lighter weight (by a couple of ounces) when compared to the Diamondbacks.
They easily fit into a coat or a car door pocket or a backpack. They're encased in dark green ridged plastic for grip and the build quality is fine.
These are surprisingly sharp, with excellent eye relief, for such a small binocular. These are perfect for the trail when you don't want to carry around bulky heavy full-sized, or even mid-sized, binoculars around your neck.
They are also very pocket-friendly binoculars.
Vortex Vanquish has two models in different configurations I.e 8×26, and 10×26.
I will update all deals for vortex vanquish below.
Conclusion: Vortex Binocular Deals
One of the benefits of getting vortex binoculars is that they have an awesome warranty policy in place.
Everyone likes the Vortex lifetime warranty. If anything happens to them other than loss, Vortex will fix or replace them.
Check: Is it Possible to Transfer the Warranty of Your Binoculars?
Any damage and you can bank upon that vortex warranty! and they keep up with their promise
We will be frequently updating this page with all the best deals on vortex binoculars so make sure to check back often.
There are a lot of great offers out there and we don't want you to miss any of them. Vortex binoculars are a great investment so take advantage of these deals while you can.
Do you have any favourite vortex binoculars? Let us know in the comments below.
Interesting Read:
Where are Vortex Binoculars Made
Nikon Binocular Deals & Discounts
Last update on 2023-12-02