Where Are Vortex Binoculars Made?- Know Everything Here!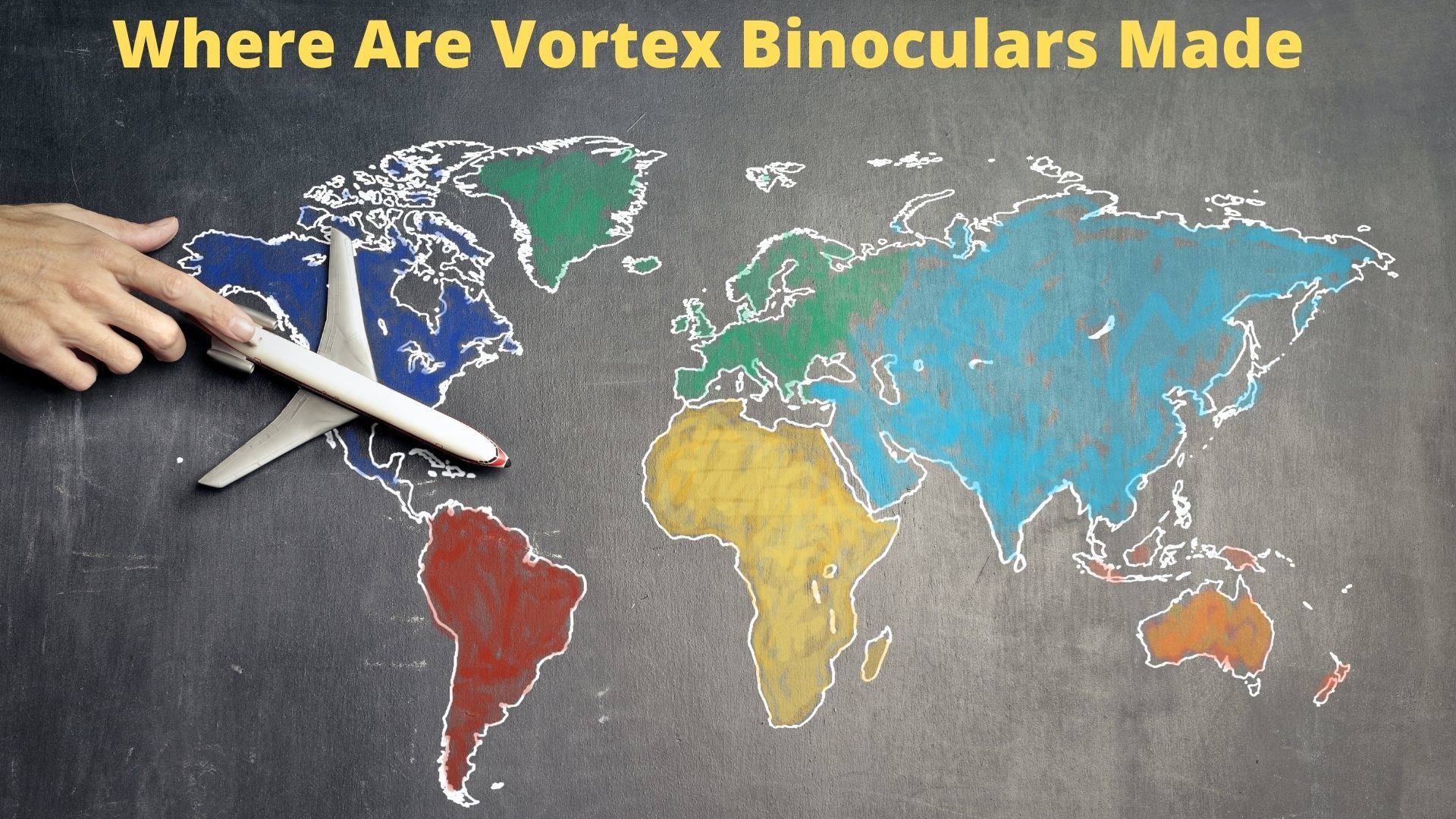 You might be wondering and looking here and there about "Where are vortex binoculars made?". In this article, I would clear all confusion regarding their make, While discussing their different products and manufacturing locations.
Let us indulge in a brief history of your favourite vortex optics,
Vortex Optics – A History in Focus
Vortex Optics is a US-based manufacturer of optical equipment, used for bird watching, hunting, wildlife watching, outdoor recreational sports, shooting sports, and law enforcement by state police, drug enforcement, and border patrol.
A family-owned business, set up in 1986 by Daniel C. Hamilton and Margie Hamilton as "Wild Birds Unlimited", a retail store that sold optics products like binoculars for birdwatching along with bird feed; Vortex was originally incorporated as Sheltered Wings, Inc., in Wisconsin in 1989 with headquarters in Barneveld, Wisconsin.
Daniel C. Hamilton is credited for pursuing European optics manufacturers, like Swarovski, to introduce innovative optical products including high-powered spotting scopes in the USA.
Continued success in the optics business and regular communication with manufacturers convinced Daniel and Margie, to set up their own manufacturing unit under Vortex Optics.
Vortex Optics is a DBA (Doing Business As) of Sheltered Wings, Inc., and is trading as Vortex Optics since 2002.
Vortex Optics manufactures, a variety of optical products. The philosophy of Vortex is to offer the best products and best possible service at the best possible prices.
The brand has manufacturing and assembling facilities in the USA, the Philippines, Japan, Taiwan, Korea, and China.
All Vortex products are tested for the highest quality standard at their modern workshop in Barneveld, Wisconsin, USA to ensure absolute customer satisfaction.
Vortex Optics, as a prestigious American brand name, has become synonymous with optical solutions all over the world.
While Margie continues to manage the retail store business, Daniel and his son Sam manage the manufacturing facilities of Vortex Optics.
See Here: Best Deals On Vortex Binoculars
Optical Products & Accessories by Vortex Optics
Vortex Optics manufactures, a variety of optical products including binoculars, riflescopes, reflex sights, monoculars, red dots, and rangefinders. spotting scopes, holographic sights, and other accessories under various brand names and trademarks.
Some of the most popular Vortex brands are-
AMG (American Made Glass) ®, Razor™®, Viper®, Golden Eagle®, Strike Eagle®, Venom®, SPARC®, Strikefire® Summit®, Pro GT®, High Country®, Crossfire®, Spitfire®, Kaibab®, Fury®, Vulture®, Hurricane®, Diamondback®, Raptor®, Vanquish®, Recce Pro®, Recon®, Solo®, Fury®, Ranger®, and Impact®.
Vortex also manufactures accessories such as tripods, clothing (men/women/kids), holding cases, cleaning products, and branded items (coffee mugs/badges, etc.). Vortex also provides training through shooting ranges that operate under the Vortex EDGE™ brand name.
Vortex Company Known For Its Vortex VIP Warranty- See Video Here
Vortex Binoculars- Manufacturing History & Locations
Until 2002, Daniel and Margie Hamilton were only involved in selling binoculars and other optical systems through 'Wild Birds Unlimited stores.
They then decided to take their business to next level, by creating Vortex Optics, to manufacture optical systems and devices.
They next decided to manufacture their optical products in countries other than the USA. Japan was selected owing to its access to advanced technological know-how to make high-quality optics, streamlined manufacturing process, and availability of cheap labour.
Subsequently, Vortex Optics opened production facilities for its binoculars in China, the Philippines, Korea, and Taiwan with each production facility specializing in a particular type of equipment.
While the Chinese production facility makes lower-end binoculars for Vortex Optics, all high-end products like Razor® UHD, Razor™® HD, and Vortex Golden Eagle® are exclusively made in the Japanese production facility.
The Chinese production facility has struggled to maintain high-quality standards, set by Vortex Optics despite deploying Japanese engineers, and optical experts to improve its production standards,
Vortex Optics in Japan
Vortex Optics initially started making its binoculars in Japan, but over time, the company realized the benefits of low-cost workmanship and a trained labour force in other Asian countries.
Japanese engineers and optical experts trained the labour force in these countries to make high-end optical systems while maintaining the same quality standards as followed in Japan.
However, the highest quality binoculars that Vortex Optics has in its portfolio, namely Razor™® HD, Razor® UHD, Kaibab®, and Golden Eagle® are exclusively made in Japan. Recon® monoculars are also made in Japan.
Vortex Optics in China
Vortex Optics makes nearly 50% of its total optical products in China, making use of cheap labour, and lower product costs. 
China is currently the biggest supplier of binoculars for Vortex Optics. But Chinese production facility has struggled to maintain the high-quality standards, set by Vortex Optics in spite of deploying Japanese engineers, technicians, and optical experts to improve its production standards,
Though standards have improved, Vortex Optics only makes lower-end binoculars in China.
Vortex Optics makes 6 different binocular lines in China, under Kaibab® HD Fury® HD, Diamondback® HD, Crossfire® HD, Raptor®, and Vanquish® brand names.
Only 3 binocular lines are made outside China. All spotting scopes and accessories, including coffee mugs, apparel, badges, tripods, and riflescope ring mounts, are made in China.
Vortex Optics in the Philippines
Vortex Optics sent Japanese overseers, engineers, and optical experts to the Philippines to ensure that products made here met their high-quality standards.
Plans are afoot to shift more product lines here from China. Currently, Vortex Optics only makes Diamondback® binoculars and Viper® riflescope product lines in the Philippines.
Venom® Red Dot Scopes are also made here.
Vortex Optics in Korea, Taiwan
Vortex Optics currently makes a variety of optical components at its manufacturing units in Korea, Taiwan.
Vortex Optics in the USA
Vortex Optics has been manufacturing optical systems since 2002, but all of them out of the USA. In 2013, Daniel C Hamilton set up a manufacturing unit, next to the company headquarters in Barneveld, Wisconsin.
The head office and manufacturing facility cover much of the area. The remaining area includes a product showroom, testing lab, two indoor-shooting ranges, and civic amenities for employees, who are primarily responsible for engineering the optical products not manufacturing them.
Vortex Optics does make, its top-of-the-line costly Razer® HD AMG Riflescopes in the USA. A couple of high-end ring mounts are also made in the USA.
How Vortex Optics Stands Out
Vortex Optics stands out for its unrelenting focus on high-quality standards. Despite Chinese manufacturing lines, becoming notorious for low-quality products, the company deployed Japanese technicians and engineers to boost production quality in China.
As Japan is known for its high quality and know-how, Vortex Optics makes all its top-of-the-line products there.
Like many other corporates, Vortex Optics binoculars/optical devices are made in multiple countries and tested, and assembled in the USA.
Vortex Optics stands out for gradually transitioning from sport optics products like binoculars to specialized products like rifle scopes, range finders, monoculars, red-dot sights, and spotting scopes.
Considered the best optical products manufacturer in the world, Vortex Optics offers a lifetime VIP warranty and after-sales service for most of its products.
This has made Vortex Optics, the go-to concern for optical products since due to their sensitivity, most optical devices are prone to damage; if facing unwanted conditions.
A lifetime warranty makes Vortex Optics products, a value-for-money product thereby attracting more customers to its stores.
Hope I have answered your question in detail regarding "Where are Vortex binoculars made", Moreover I have discussed in brief their history and different manufacturing locations product-wise. This will help you in understanding more about your favourite vortex binoculars.
Do comment If you like the article.
Read Our Reviews about some best-selling vortex binoculars below-
Vortex Diamondback 8×42 Review
The Vortex Diamondback 10X42 Review