Leupold vs Vortex Binoculars – A Comprehensive Comparison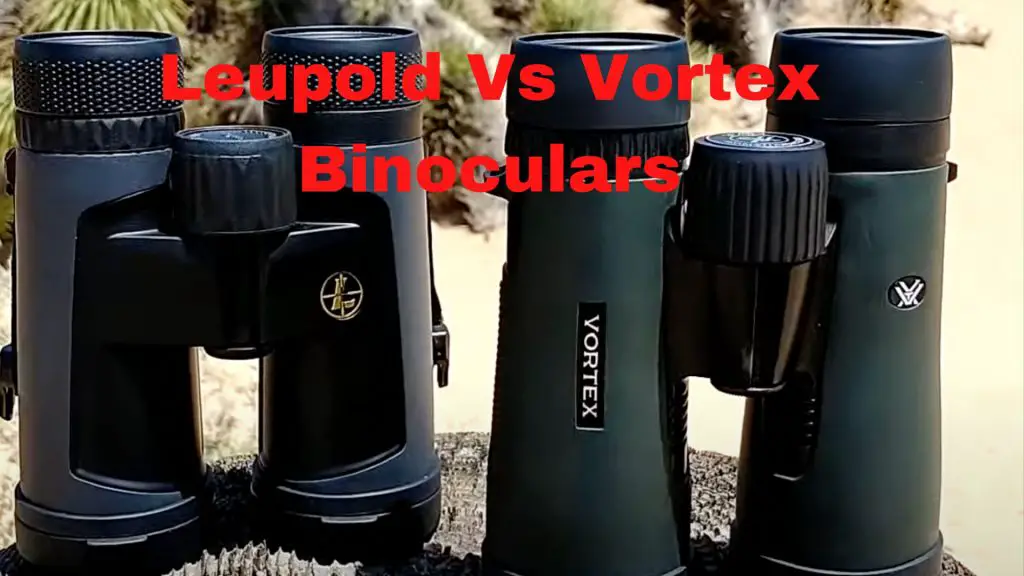 Leupold and Vortex are two well-known and highly regarded brands in the world of binoculars. Both brands offer a range of high-quality binoculars that cater to the different needs and preferences of users.
Whether you are a bird-watcher, or hunter, or simply enjoy nature walks, choosing the right binoculars can enhance your experience.
In this comparison, we will look at the key features and benefits of Leupold and Vortex binoculars to help you make an informed decision when purchasing your next pair of binoculars.
Where are Leupold's Binoculars Made?
Leupold is an American company that designs its optics in the United States, but not all of its binoculars are manufactured domestically. Leupold has a manufacturing plant in Beaverton, Oregano however, some Leupold binoculars are made in Europe and Asia, specifically in Japan.
Currently, Leupold imports all of their binoculars and non-Gold Ring spotters. The low end of the lines is made in China. The upper end is made in Japan. The Gold Ring line is assembled in the US with Japanese glass.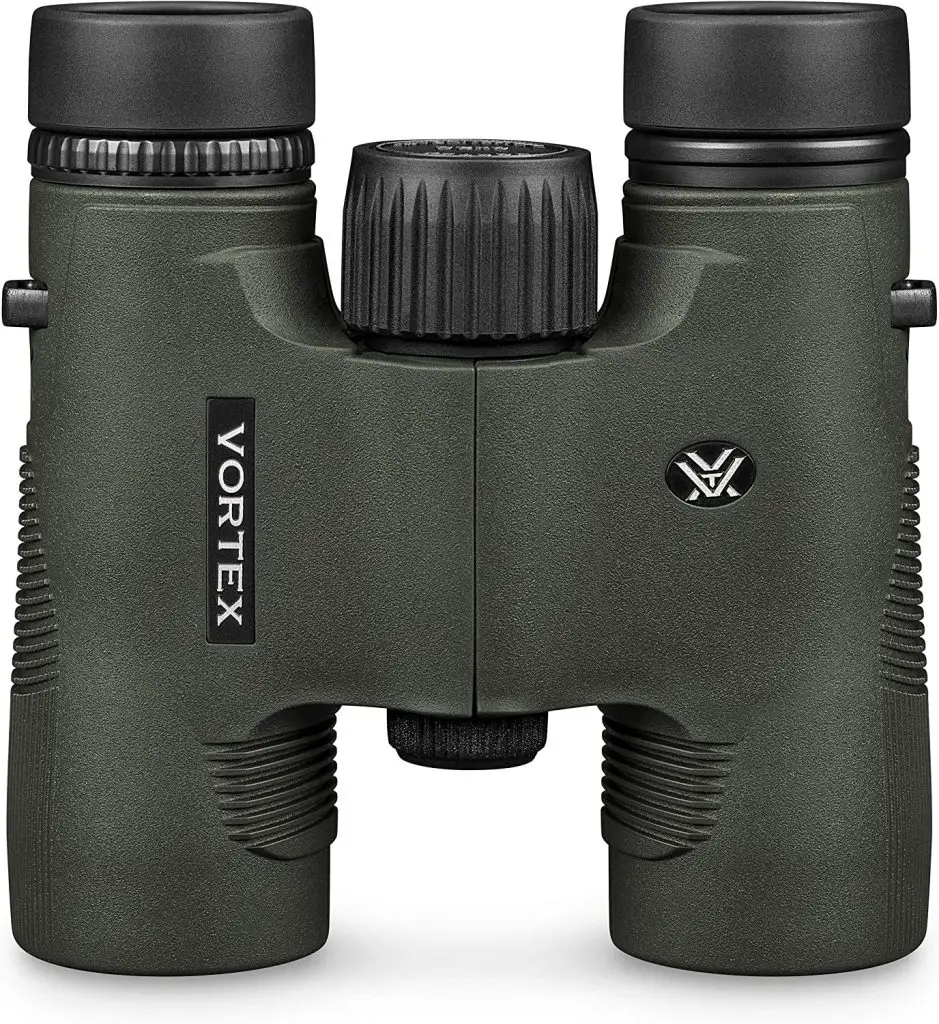 Where are vortex binoculars made?
Vortex is a brand of sporting optics that is based in the United States. The company is known for producing high-quality binoculars, riflescopes, spotting scopes, and other optical equipment.
Vortex binoculars are primarily manufactured in China & Philippines, with a focus on producing high-quality, durable, and affordable products. The company is committed to using the latest manufacturing techniques and technologies to ensure that its binoculars meet the highest standards of performance and reliability.
In addition to China & Philippines, Vortex also produces some of its high-end binoculars in Japan.
This allows Vortex to offer a range of binoculars with different features and specifications to meet the needs of different users, from entry-level models to more advanced models for experienced users.
See the full article and analysis: Where are Vortex Binoculars made
Let us compare the most popular intermediate Leupold and Vortex binoculars to learn about their difference.
We will compare here the Leupold Alpine HD 10×42 vs Vortex Diamondback 10×42 HD.
I will update with more Leupold models comparison against their vortex counterpart as we progress on our journey later.
Vortex Diamondback HD Vs Leupold BX-2 Alpine HD Binoculars 10×42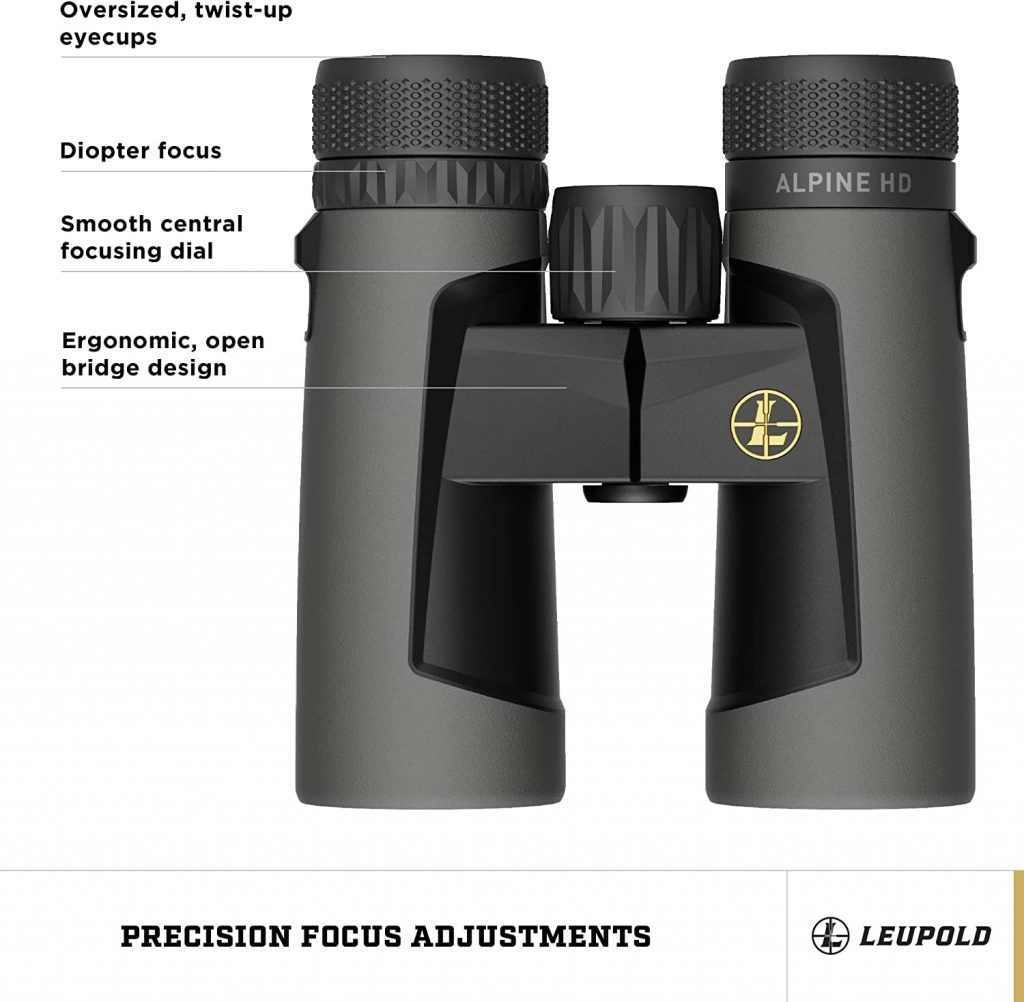 Optical Performance-Leupold Alpine HD 10×42 Vs Vortex Diamondback
I used both the binoculars in different situations and here are the observations:-
I could see the flares built up in Vortex diamondback HD while flares disappeared with the Leupold Bx-2 alpine HD in the same situation. I could enjoy gorgeous sunsets through Leupold binoculars without any flares. I guess the Leupold has a more flare resistant glass
Although diamondbacks were not that flare resistant, however, I could see very less Chromatic aberration in the diamondback HD 10×42. While looking through the alpines, I could see some chromatic aberration with purple fringing.
Moreover, I loved how the image pop up in front of me with the diamondbacks 10×42.
I could also see the image was sharper in vortex diamondback binoculars than in the alpine HD 10×42 binoculars.
Again, Although the image fall off is less in the alpine HD binoculars, it lacks the same level of centre sharpness as Vortex diamondbacks HD.
I also noticed that the Diamondbacks offered a warmer colour scheme, while the Alpine HD produced a cooler and more overall natural image."
Both Fare comparable in their optical performance. I would give a bit high rank to Alpine HD 10×42 binoculars as I like more natural colours.
Low light Performance
I can see better in low light with the leupold than the diamondbacks. I would recommend going for Leupold If your maximum glassing is at low-light situations I.e dawn and dusk.
Eye Relief and Twist Up Eyecups
Both pair works fine with glasses. Leupold has 2 steps-up and 2-steps down twist eyecups which is the same as vortex diamondback twist-up eyecups.
However, Diamondbacks are a clear winner with 15mm eye relief which is 1.4 mm more than the 13.6mm eye relief in the leupold alpine HD 10×42.
Field Of View
The field of view refers to the area of the subject that can be seen when using binoculars. A good field of view range is typically between 6° to 7.5°.
The leupold bx-2 alpine 10×42 boasts an angular 6.5° field of view, making it a good choice, while the vortex diamondback also has a similar 6.3° field of view, which is not as wide.
The linear fov for diamondback 10X42 is 330ft @ 1000yds while the alpine 10×42 boasts 342ft fov@1000yds.
Clearly, Leupold wins by diamondback with a small margin.
Harness Strap & Case
The case strap is much much better in the Leupold alpine. The strap was comfortable, looked good and was easy to adjust in case of the alpine while The vortex has a foamy not so good quality harness strap.
The cases that come up with these are of almost similar quality and I have no complaint with either of them.
The Leupold doesn't comes with a neck strap while the diamondback HD comes with a neck strap. Some people may not like it, you might have to get used to this with Leupold binoculars
I found In case of leupold alpine HD, the chest bag was solid and has a better overall design than the Vortex.
Weight
The vortex weighs 21.3 oz and the Leupold alpines weigh 28 oz. Clearly, Vortex is a winner in size and provides better handling. It is easier to carry vortex for long glassing sessions.
Focus Wheels
The vortex diamondback has butter smooth focus wheel. I really enjoy fiddling with the focus wheel of my vortex diamondback binoculars.
However, In case of Leupold BX-2 alpine, I didn't find the focus wheel butter smooth. Moving it from one way to another, I found the focus wheel to be on the stiffer side.
I am not a fan of vortex but, I found getting on focus quickly with the vortex diamondbacks HD was simply easier.
The distance from minimum focus to infinity was almost the same in both binoculars. You don't need to turn a long way to get from close focus to infinity in both binoculars. 
Waterproof & Fogproof
Both the Leupold and vortex are waterproof and fog proof. Moreover, both are weather resistant and can be taken in rough terrains confidently.
Guarantee-Leupold Vs Vortex Binoculars
Lifetime guarantees are great for both companies. , the warranty -though solid in case of Leupold does not seem to cover accidents. That's reasonable but Vortex does have a warranty that covers everything.
Technically, Leupold has the same warranty. However, the difference between theirs and Vortex's is, in my experience (dealt with both companies' warranty) Vortex is much easier and much faster to deal with.
Vortex Optics Diamondback HD Binoculars 10x42
10x magnification & 42mm objective lenses, these Diamondback HD binos are optimized with select glass elements to...
Fully multi-coated lenses increase light transmission with anti-reflective coatings on all air-to-glass surfaces....
Adjustable eyecups twist up and down for comfortable viewing with or without eyeglasses. Center focus wheel adjusts the...
Sale
Leupold BX-2 Alpine HD Binoculars, 10x42mm (181177)
Model #181177 - BX-2 Alpine HD 10x42mm binoculars in shadow gray
100% Waterproof and fogproof and backed by Leupold's legendary customer care
Fully multi-coated lens system ensures maximum brightness for clarity, contrast, and color fidelity
Leupold Alpine HD Vs Vortex Diamondback HD 10×42 Binoculars Specifications
| | | |
| --- | --- | --- |
| Binoculars | Vortex Diamondback 10×42 | Leupold Alpine HD 10×42 |
| Magnification | 10x | 10X |
| Objective Lens Diameter | 42 mm | 42mm |
| Eye Relief | 15 mm | 15mm |
| Weight | 21.3 oz | 28 oz |
| Height | 5.7 inches | 5.5 inches |
| Interpupillary Distance | 55-73 mm | 57-78 mm max |
| Close Focus | 5 feet | 13.5 ft |
| Angular Field of View | 6.3 degrees5 feet | 6.5 degrees |
| Exit Pupil | 4.2 mm | 4.2mm |
| Linear Field of View | 330 feet/1000 yards | 342 feet/1000 yards |
Also Check: Our Full Review Of Leupold BX-4 Pro Guide HD 10×42 Binoculars
Frequently Asked Questions
Are Leupold binoculars heavier than Vortex binoculars?
"Leupold binoculars tend to be heavier than their Vortex counterparts due to their somewhat robust construction and features. This includes rubber armor and water-resistant seals, which contribute to the added weight. The weight difference, however, is typically minimal and should not play a significant role in your purchasing decision."
Are Leupold binoculars suitable for hunting?
Yes, Leupold binoculars are an excellent choice for hunting thanks to their exceptional optical capabilities and features such as rubber armor and water resistance. Moreover, Leupold offers a lifetime, no-fault warranty on their binoculars, providing peace of mind and protection for your investment
Conclusion-Leupold Vs Vortex Binoculars
In conclusion, both Leupold and Vortex offer excellent binoculars with unique features and benefits. Leupold binoculars are known for their high-quality optics, durable construction, and long-lasting reliability, while Vortex binoculars offer a range of innovative features and affordable pricing.
When making your decision, consider your needs and preferences, such as size, weight, magnification, and price. Ultimately, both Leupold and Vortex offer great options for anyone in the market for a high-quality pair of binoculars. The choice between the two will ultimately come down to personal preference and specific requirements.
Some prefer the Vortex over the Leupold binoculars. The Diamondback's are pretty solid for $250, in all reality owing to their VIP warranty. Some would love leupold for overall natural colours and less glare and excellent low light performance.
Ultimately, whether you choose Leupold or Vortex, you can rest assured that you are getting a great pair of binoculars that will enhance your outdoor experience.
Last update on 2023-09-18