Binoculars Longevity – How Long Should a Binocular Last & How to Increase Its Longevity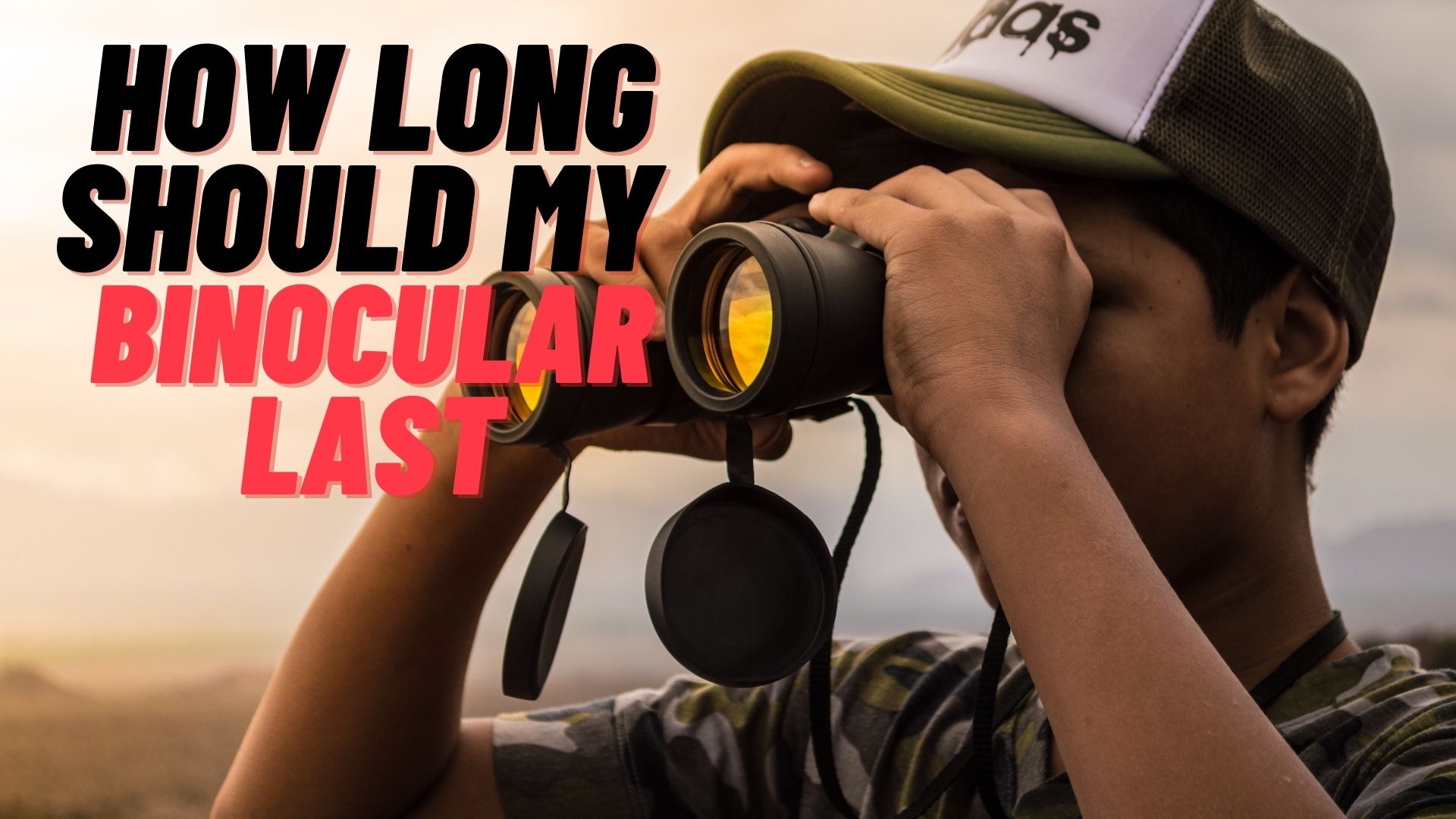 Like everything else, a binocular is also a piece of equipment. It will last for years, i.e., it will perform well for a long time, if handled and maintained with care.
However, even after careful handling, something may go wrong and the binocular may become unusable. In general binoculars' fail because of 4 main reasons, such as: –
Faulty manufacturing/defective parts

Excessive wear and tear due to rough usage

Accidental damage

Collimation problems
Binoculars Replacement
If the binocular becomes unusable due to any reason within its guarantee period due to a fault, apart from accidental damage; it should be replaced with a new binocular; if it is covered by the manufactures guarantee against faulty workmanship, if not then you as a buyer are in for a loss.
Some binoculars are incredibly expensive, despite being simple long-distance viewing equipment, due to their brand name, the material used in manufacturing, and their special purpose.
Also Read: Best Binocular Repair Services Near Me
Use Carefully for Extra Longevity Of Your Binoculars
As such, it is very important to be extra careful while handling binoculars to ensure they last long for few years at least.
Also, regular servicing and cleaning can help increase the lifespan of a binocular. Binoculars are in the same category as raincoats or sweaters; meaning you don't need to keep them at a place meant for regular use.
Just keep them packed and wrapped in a place secure and safe, and take them out only when you need to go out on outings to do birdwatching, stargazing, plane spotting, and more.
All binocular lens comes coated with a special material that helps prevent light from reflecting off its polished glass surface. 
As such, it is important to make sure the lens coating is not damaged. Careful use with single-user handling will ensure that a binocular lens coating is not damaged and lasts longer than expected.
Although careful use is warranted, on average binoculars last 10-15 years.
However, being extra careful may well see them functioning perfectly fine even after 40-50 years, but by that time such binoculars will become a collector's item. 😊
A Typical Long-Lasting Vortex Binoculars With Vip Warranty
No products found.
Cleaning Process For Binoculars to Boost its Lifespan 
Quality binoculars if taken good care, and maintained in perfect condition, never go outdated.
The best way to ensure binoculars last a lifetime is to follow a routine of cleaning.
There are a variety of binocular lens cleaning kits and accessories that can be put to good use, alongside useful tips to ensure binoculars last long.
1.Take Care of Neck Strap and Case
A binocular comes with a neck strap attached and is kept inside a protective case.
Always keep the neck strap attached to the binocular. The binocular hanging from the neck keeps it safe from falling off, a major cause of the mishap.
Even steady hands can lose grip. When not using, best to keep binoculars inside the protective case. So, it is important to take good care of the neck strap and case.
2.Always Fold Down Eyecups
Nowadays some binoculars come with fold-down eyecups. It is best to use eyecups folded, when not using binoculars to prevent damage or wear and tear to the lens.
You must remember that a binocular lens comes equipped with coatings. The thickness of these coatings is only a few molecules that can only be applied under controlled factory conditions, and can't be re-applied.
As such protecting the binocular lens is important.
3.Shake Off Saltwater (Waterproof Binoculars Only) 
If you have a waterproof binocular, it's important to remove all traces of saltwater from the binocular, as it helps avoid damage to the binocular.
If, your binocular came in contact with salt water, then gently rinsing it under fresh, running water is the most effective way to remove saltwater.
But you need to be absolutely sure that your binocular is waterproof only then you should try this method of cleaning or it may permanently damage your binocular.
4.Cleaning Binoculars with Blower Brush
Cleaning the binocular prism lens and eyepiece is a delicate task.  You need to be careful not to scratch it or put any kind of print on it. You also need to be careful while cleaning the sticky rubber on binoculars.
Using a blower brush to clean the binocular lenses without touching them is the best idea. Using it you can also clean the areas in and around the eyecups.
5.Carefully Use Lens Caps
Most high-quality binoculars nowadays come with protective caps also called 'rain guards' for front and rear lenses. Some lens caps come with focal lengths clearly labeled on them, helping users to grab the correct lens.
So, it is beneficial to keep the lens cap intact. Also, if you have Porro prism binoculars, set lens focus on infinity (with the lens fully covered) for traveling or storage.
Useful Read: Roof Prism Vs Porro Prism Binoculars
6.Keep Calm with Lens Cleaning Solution
Keeping your calm and being patient while cleaning the binocular lens is essential.
You must never overdo the scrubbing on the lens as it may actually affect the lens in a manner that affects viewing quality.
As such If the level of dust in your binocular lens is excessive and can't be cleaned using the above methods, then you must try some specially designed lens cleaning solution based on isopropyl alcohol.
Such types of cleaning solutions, are multipurpose in nature and can be used to clean not just binoculars, but also cameras, computers, mobiles, and all LCD screens.
7.Use a Microfiber Cloth
Besides using a blower brush, a microfiber cloth can also be used to remove fingerprints and smudges from your binocular lens in the safest manner.
The cheapest accessory available in a camera store, it takes up very little space. You just need to buy a new microfiber cloth every few months, if you use binoculars fairly regularly.
8.Store in Safe Place
Always keep the binocular hanging safely or inside a case, in such a way that it doesn't fall off.
Also, keep binoculars away from direct sunlight in a cool safe, and dry place, where they don't get knocked around, as it can cause the eyecups to become cross-threaded and stuck in place, which can only be corrected at the repair shop.
9.Handle with Care
It's important not to use a binocular roughly.
Avoid bumping, dropping, leaving them outside.
Avoid cleaning binoculars using wrong items like paper towels, tissues, handkerchief, newspaper, saliva, shirt, ammonia.
And, most importantly don't abuse your binocular by swinging them with your hands.
10. Use a Lens Cleaning Pen
If you think a blower brush or microfiber cloth is not helping clean your binocular. Then a lens cleaning pen can then a lens cleaning pen can help.
The pen helps removes dust and fingerprints, from the lens. More suited for expensive binoculars, the pen can also be used to clean DSLR camera lenses, eyepieces, small aperture spotting scopes, telescopes, and other optical items.
Some pens come with a retractable brush to remove dust, while some are equipped with a special non-liquid cleaning element, that never dries out.
11. Using Damp Cloth on Binocular Body
Most binocular frames nowadays come covered with a special type of rubber surface as armor against rust, scratch, or dust.
While this helps boost a binocular's longevity, it is important to clean the rubber surface with soft damp (not wet) cloth for best results.
Also Read in Detail: How To Clean Binoculars: Step-by-Step!
Conclusion
If you spend your hard-earned money on buying expensive binoculars, then these are the simple steps that you should take to keep it clean and boost its longevity and enjoy years of birdwatching and other outdoor experiences.
Useful Reads:
How to Fix Binoculars With Double Vision
How To Use Binoculars With Glasses – Step-by-Step Guide
Is it Possible to Transfer the Warranty of Your Binoculars?
Last update on 2023-05-17